Don't Allow Service to Interfere with Worship
Don't Allow Service to Interfere with Worship
August 6, 2014
Comments Off

on Don't Allow Service to Interfere with Worship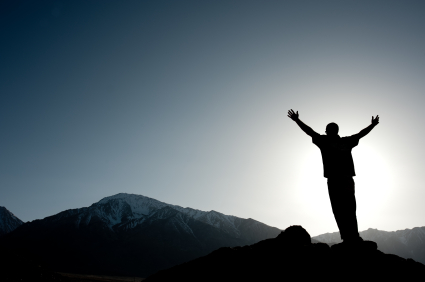 We are so often distracted by the busyness of our own material lives instead of focusing on our spiritual relationship with God, which is so much more important. Here is a simple illustration from my own life. I first shared this message at a weekly Bible study I attend. On the Sunday prior to our Wednesday meeting I was thinking about what to share, so I started looking through some material I had already written. I found an article I had written a few years before, so I decided to share that rather than spending time on a new message. I was expecting visitors to stay over on the Monday evening – meaning I would lose a day of work – so I took the easy solution to go to the meeting with a message that was already prepared. Reading through this message on the Tuesday night I suddenly realised I had not even prayed to ask God if my pre-prepared teaching was what He wanted me to share.
I had just made a choice that served my busy schedule rather than focusing on what God wanted. I felt as though I had short-changed God, and so I prayed. Shortly after that, I felt directed to look at my bookshelf, and within fifteen minutes, I knew I had some work to do! I had to prepare a new message. I started adapting a chapter from one of the books on my shelf. By not praying first, I had allowed my busy schedule to interfere with an act of worship… because I believe that sharing God's word is a form of worship, as is taking the time to hear it being expounded upon. Thinking only about how to catch up on my schedule, I had not asked God's advice before deciding what to share from His word. As I sat preparing this new message I had been led to share, I realised that my weekly schedule had distracted me from serving God in spirit and in truth. I was observing protocol by making sure I had a message to share, but I had allowed a traditional concept of service to interfere with an act of true worship.
Mary and Martha were followers of Jesus who learned an important message from their Messiah that is very pertinent in today's modern world – we are often so caught up in the busyness of our schedules that we forget to offer God true worship:
Now it happened as they went that He entered a certain village; and a certain woman named Martha welcomed Him into her house. 39 And she had a sister called Mary, who also sat at Jesus' feet and heard His word. 40 But Martha was distracted with much serving, and she approached Him and said, "Lord, do You not care that my sister has left me to serve alone? Therefore tell her to help me." 41 And Jesus answered and said to her, "Martha, Martha, you are worried and troubled about many things. 42 But one thing is needed, and Mary has chosen that good part, which will not be taken away from her." – Luke 10:38-42 (NKJV – emphasis added)
We read in verse 40 that Martha was "distracted." She was literally feeling overburdened by all the preparations that had to be made for their guests. Arranging the house and cooking the food to perfection distracted her from the most important part of what was going on under her very roof – the Messiah was speaking the word of God. In contrast, Mary chose to hear what the Messiah had to say about His Father's word. In her devotion to God, Mary was doing what Jesus had commanded in the Sermon on the Mount:
"Therefore do not worry, saying, 'What shall we eat?' or 'What shall we drink?' or 'What shall we wear?' 32 For after all these things the Gentiles seek. For your heavenly Father knows that you need all these things. 33 But seek first the kingdom of God and His righteousness, and all these things shall be added to you. 34 Therefore do not worry about tomorrow, for tomorrow will worry about its own things. Sufficient for the day is its own trouble." – Matthew 6:31-34 (NKJV – emphasis added)
Mary chose to first seek the kingdom of God and His righteousness while Martha was distracted, worried, and troubled about many things. When Martha realised she was on her own in the kitchen, she was filled with a mixture of irritation and self-pity. She was cross with her sister for sitting with the men while she was so busy. In a sense, she interpreted her sister's attitude of worship as a form of laziness.[1] So she approached Jesus and appealed to Him to rebuke her sister on her own behalf, perhaps expecting Jesus to send Mary into the kitchen. But His response to Martha reveals His compassion for her – not because she was so busy – but because she allowed the pressure of her service to Him to overwhelm the opportunity she was given to hear the word of God.
We know Martha was a woman of faith because just before Jesus raised her brother, Lazarus, from death, she confessed her faith in Jesus by saying, "You are the Christ, the Son of God, who is to come into the world" (John 11:27). In spite of her strong faith, Martha had become distracted. Jesus had to point out to Martha the stark contrast between what she was focusing on compared to what Mary was focusing on – He said to her: "Martha, Martha, you are worried and troubled about many things. 42 But one thing is needed,…"
Jesus was basically asking Martha what was more important: to spend quality time in His presence as He taught His Father's word, or to serve perfectly cooked roast lamb and potatoes? He contrasted Martha's busyness with Mary's focus on kingdom priorities. If Martha had spent more time listening to Jesus, she may have had a better understanding of what His priorities actually were. In Luke's gospel Jesus says to His disciples: "Whatever city you enter, and they receive you, eat such things as are set before you" (Luke 10:8). What Jesus wanted Martha to grasp is that she should not allow the physical world to supersede the spiritual. Worship is ultimately greater than service, and a simple meal served with reverence is far better than an elaborately prepared meal that causes you stress.[2]
The message in all of this is that God created human beings and not human doings.[3] God expects us to work, and He blesses our labour, but not if it comes at the expense of our worship before Him, the health of our human relationships, and our personal health.
Simply put, God expects us to live a life of balance that incorporates both worship and service.
[1]     Soulguide: Following Jesus As Spiritual Director, p. 92, © 2003 Dr Bruce Demarest, NavPress, P.O. Box 35001, Colorado Springs, CO 80935.
[2]     Ibid, p. 93
[3]     Ibid, p. 95